We have many fun and meaningful ways you can volunteer your time and energy for the Hood River County Library District. We will provide training for each task.
The Hood River County Library District is seeking people who want to work in a rewarding environment. If you are looking for a way to spend those extra hours in your day, volunteering at the library is a great opportunity to help others and stay connected to one of the most resourceful organizations in our community. You would be a great addition to our team.
Each year, community members donate their time, skills and talents to Hood River County Library District's locations and programs. In fiscal year 2018-19, they logged over 1,600 volunteer hours.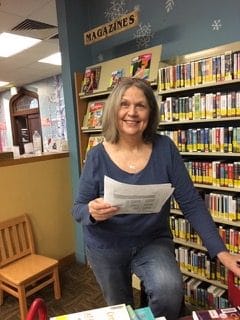 Library tasks
Processing returned library materials
Shelf reading
Shelving library materials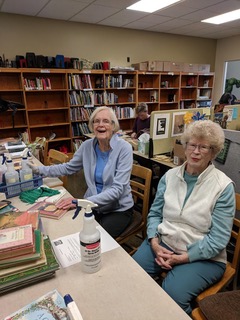 Friends of the Library
Book sales: organizing, set up, and staffing for the annual 3-day book sale.
Processing donated books: for ongoing sales, the annual book sale, and for the "free" carts.
Processing new materials: book covering, taping books, marking audiocds and DVDs. This group meets every Mondays (9am to 11am).
Hood River Reads: A massive, annual undertaking with many volunteer opportunities.
The Dirty Book Club:  Meets the 1st and 3rd Monday (1pm-3pm) to clean dirty books.
Entrance Display: Creates fresh displays for the library foyer each month.
Teens
Volunteer opportunities for teens!
Come in and volunteer in person. Help out in the library with the books and programs. There's some paperwork, but it's easy.
Join the Teen Discord and help plan programs and our post-plague library world. 
In person Teen Council is every Saturday at 11am.
To find out more, contact Rachel the Teen Services Librarian.
You can also contribute to the Library District by donating to or joining the following library community groups:
Both groups support the library ranging from raising funds for the Library District to volunteering for projects and events. Find out more:

Hood River County Library District
Hood River County Library District is committed to delivering excellent library services to all of the people of Hood River County, Oregon.