Family Movie Matinee
Saturday, Sept. 16 @ 2 p.m. in the Hood River Library Theater
In celebration of National Hispanic Heritage month, that Hood River Library will be showing a family movie, where a young man, torn between fulfilling the expectations of his family and following his heart, embarks on an adventure that spans three fantastic worlds where he must face his greatest fears. 
This is an all ages family event. Free snack and drinks will be provided.
Library Halloween Party
Tuesday October 31st, 4-7pm.

Get ready for a spooktacular night of thrills at our Halloween Party in the library! Join us for an eerie evening of creative crafts and activities, chillingly delicious punch, and free boooooooooooooks.
Thanksgiving Craft Bags
Week of November 21 – 25.

Celebrate the season of gratitude with our Thanksgiving/Harvest Season Craft Take Home Bag!
Inside you'll find everything you need to create heartwarming crafts that capture the spirit of the season. Unleash your creativity and share in the joy of celebration!
Available during Thanksgiving week 11/21 – 11/25.
Bookmobile Stop
Every 2nd & 4th Saturday 12:30-1:30 pm, Odell Community Neighborhood Park
Come to our weekly Saturday stop to check out materials and take home craft kits and snacks!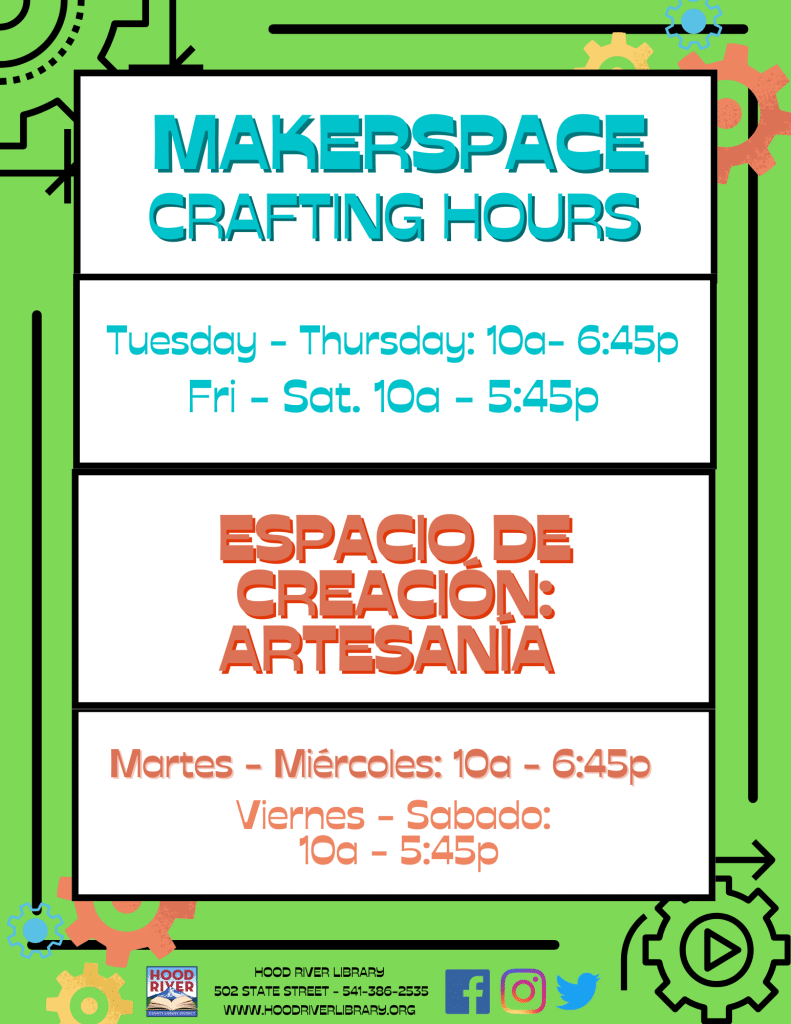 Makerspace open hours
Tuesday-Thursday 10am-6:45pm
Friday-Saturday 10am-5:45pm

Makerspace, Hood River County Library
A Makerspace is a place where people of all ages can make things. It's a place for hands-on learning with all the tools for creativity.
Patrons can explore technology, crafts, tools, and more!
Crafty Saturdays!
Saturdays 10am – 2pm
Cascade Locks & Parkdale branches
The Parkdale and Cascade Locks branch libraries will be hosting Crafty Saturdays from 10:00am-2:00pm. (The Makerspace at the Hood River branch is also open for crafts during this time.)
Patrons can use a variety of craft supplies to create their own masterpiece. 
Playgroup at Cascade Locks
Fridays at 10:30am, Cascade Locks Library
Come explore the library, help kids build social skills, and make new friends. The  last Friday of the month we will have a librarian-led storytime!
Playgroup at Parkdale
Fridays at 10:30am, Parkdale Library
Come explore the library, help kids build social skills, and make new friends. The first Friday of the month we will have a librarian-led storytime!
Library Highlights for Kids
Kanopy's dedication to thoughtful entertainment includes educational and engaging videos for children of all ages—as well as the young at heart. Parents can trust that our catalog encourages social and emotional development, promotes respect for community diversity, and inspires creativity. Browse Kanopy Kids and discover the videos that spark children's imagination. And the best part is it is you have unlimited plays for free with your library card! 
TumbleBooks for Kids
The TumbleBook Library features thousands of professionally published picture books, graphic novels, chapter books, videos, games, music and more for kids in grades K-6. The picture books in particular are loads of fun — if your child isn't reading on their own yet, TumbleBooks will even read books out loud to them!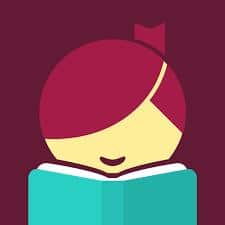 Library2Go
Your Hood River County Library District card gives you free access to thousands of e-books and e-audiobooks for all ages, 24 hours a day, 7 days a week. Visit the ebooks and audiobook page for detailed instructions.
When logging in, select from the library drop down menu:  LEO Listens – Libraries of Eastern Oregon
More resources we recommend…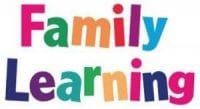 Hood River County School District
These family learning resources are meant for skill building & development and most importantly for fun!
Lexile Framework for Reading
Find the right book for your reading level. Don't know your Lexile measure? Get help finding it.
Dolly Parton's Imagination Library
Dolly Parton's Imagination Library is a book gifting program that mails free, high-quality books to children from birth until they begin school, no matter their family's income.
Khan Academy
Watch tutorials online and practice a wide variety of life skills and academic subjects, from computer programming to printmaking or 2nd grade math to entrepreneurship.
Oregon Zoo
Enjoy live videos of zoo animals and fun activities!

Hood River County Library District
Hood River County Library District is committed to delivering excellent library services to all of the people of Hood River County, Oregon.