Library Foundation
a non-profit group formed to enhance and expand library programs & services
to benefit the Hood River County Library Foundation
May 6th 6:00-8:00pm
at the Hood River Library
Join us for the 10th

Feast of Words
Fundraising Gala!
This year we are delighted to support the Library District's new Strategic Priority:
"Make library services accessible to all by reducing barriers to access." 
Enjoy live music, great local food, wine and beer and donate through the live auction, raffle and wine wall and help us meet our goal to raise $35,000 at the Feast:
$25,000 to improve infrastructure at our facilities and reduce barriers to access and
$10,000 to support the Bookmobile, to ensure it continues to succeed in making library services more accessible.
Did you know you can support library services by donating to the Library Foundation?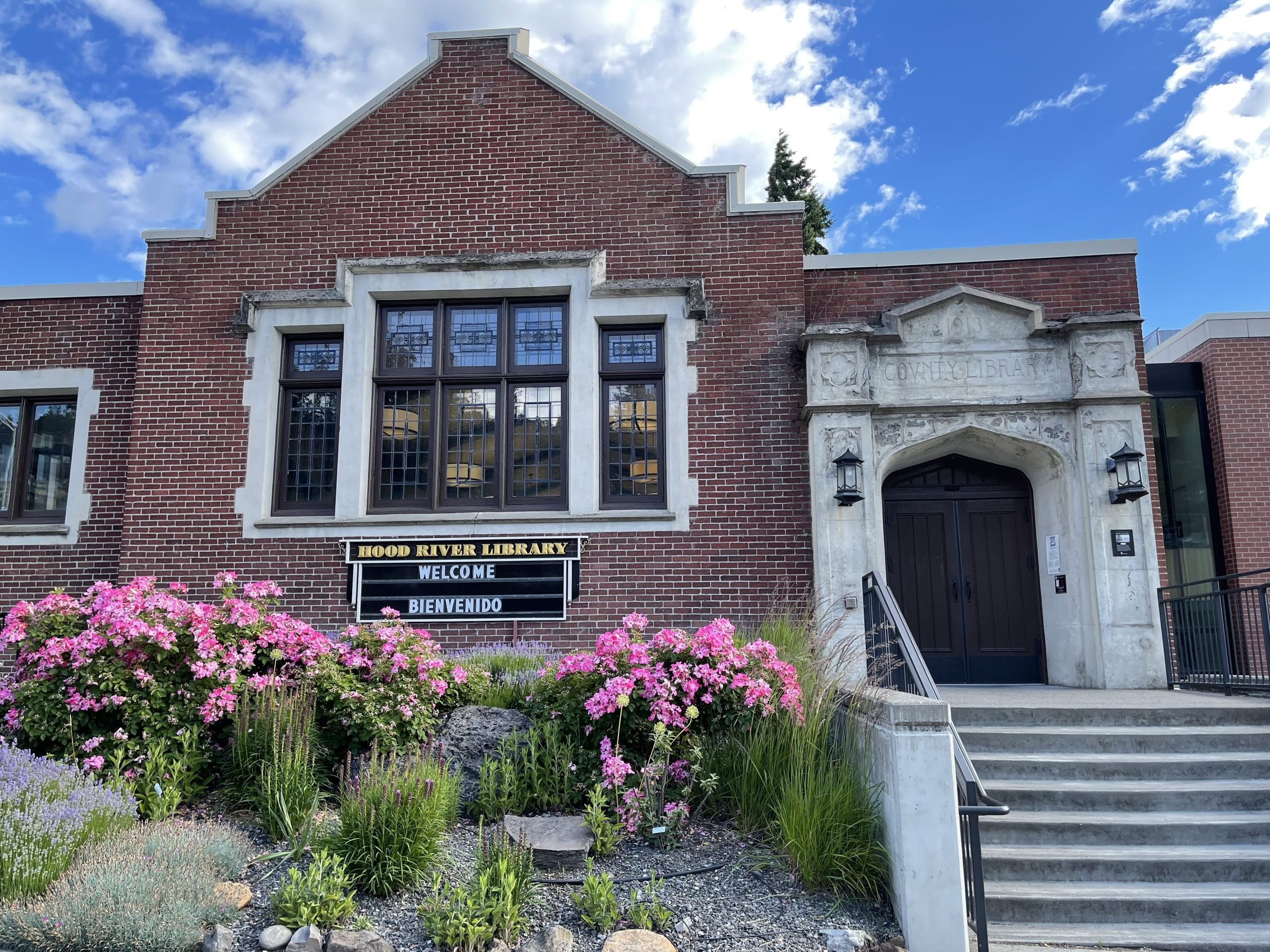 In 2010, the voters of Hood River County created a Library District to fund the Hood River, Parkdale and Cascade Locks libraries. While tax dollars keep the lights on, buildings open, and books on shelves, our tax rate is among the lowest in the state, providing just a basic level of funding.
This is where the Library Foundation comes in. We are a non-profit group formed to enhance and expand library programs and service (find out more about our mission and what we fund). Your gift helps us provide the margin of excellence that takes our libraries from good to great.
Will you help support great library services for all of Hood River County? Here are some ways you can help:
Make a Donation
Your tax-deductible donation will help us be successful. For more information please contact Jen Bayer via phone (541) 645-0924 or via e-mail foundation@hoodriverlibrary.org.
If you prefer making a donation by mail, click here for a printable Donation Form and send to:
Hood River County Library Foundation
PO Box1582
Hood River, OR 97031
Become a Member
Your annual Library Foundation membership is one of the best ways to help sustain vibrant public libraries in Hood River County. Our members will be treated to fun perks, an annual report and monthly updates on library happenings. Find out more about member benefits.
Become a Board Member
The Foundation Board meets monthly (except July, August, December) to determine how best to financially support increased quality of service, materials, and technology of our community's libraries, plan for future growth opportunities, and coordinate events such as the annual Feast of Words fundraiser. Email foundation@hoodriverlibrary.org. for more details.

Donate Stocks & Securities
If you would like to make a gift of stocks or securities to the Foundation, please download this form, complete and share with your broker, then contact us at foundation@hoodriverlibrary.org to let us know about the transfer. this will ensure we are able to acknowledge your gift and credit it to you.
Buy a brick for the Library Gardens
The Library Foundation sells bricks to be laid along the paths of the Georgiana Smith Memorial Gardens, the lovely green space adjacent to the Hood River Library. These bricks are a long-lasting way to honor the library-lovers in your life.
Give to the Endowment Fund
The Hood River Library Foundation's Endowment Fund helps us ensure our local libraries have support into the future. 
We are proud that our Endowment Fund is held at the Gorge Community Foundation.
Find out how you can grow our fund.
Join the Library Legacy Society
We are pleased to announce the creation of the Hood River Library Legacy Society, honoring those members of our community who have included the Library Foundation in their estate plans.
Gifts may be made through your will, life insurance, retirement assets or by making a gift to our Endowment Fund. The Endowment is like a trust fund – providing annual support in perpetuity for the vital needs of the Library.
If this is something you would be interested in, we encourage you to have a discussion with your estate planner or attorney. If you would like more information, please contact us (foundation@hoodriverlibrary.org) and we can discuss some options.
The Hood River County Library Foundation is a 501(c)3 charitable organization. Donations are fully deductible as allowed by law.

Hood River County Library District
Hood River County Library District is committed to delivering excellent library services to all of the people of Hood River County, Oregon.