Live outside Hood River County?
You can get a free library card if you are a resident of:
Clackamas County, Oregon – except for Johnson City
Multnomah County, Oregon
Washington County, Oregon
Clark County, Washington
Klickitat County, Washington
Skamania County, Washington
Yale Precinct, Cowlitz County, Washington
Libraries in these areas belong to the Metropolitan Interlibrary Exchange. Residents may apply for free library cards at participating libraries. Patrons must register for a library card at each library system they wish to use. Materials must be checked out and returned at the library or library system that issued the library card. Other library systems may have different registration requirements, rules and fees.
Metropolitan Interlibrary Exchange libraries include Camas Public Library, Fort Vancouver Regional Library District, Multnomah County LIbrary, Library Information Network of Clackamas County and Washington County Cooperative Library Services.
Free limited-use library cards for Oregon residents
You may be able to get a free limited-use library card through the Oregon Library Passport Program if you live in Oregon, but do not live within Hood River County or one of the areas above. Find out if your library participates.
Full-use library cards for a fee
Both Oregon and non-Oregon residents can get a Hood River County Library card for $80.00 per year or $20 for 3 months. This fee also includes full library services, including accessing research tools from a computer or smartphone, placing interlibrary loan requests, checking out the maximum number of items and placing the maximum number of holds. You will need to visit the library in person to complete your application and pick up your library card.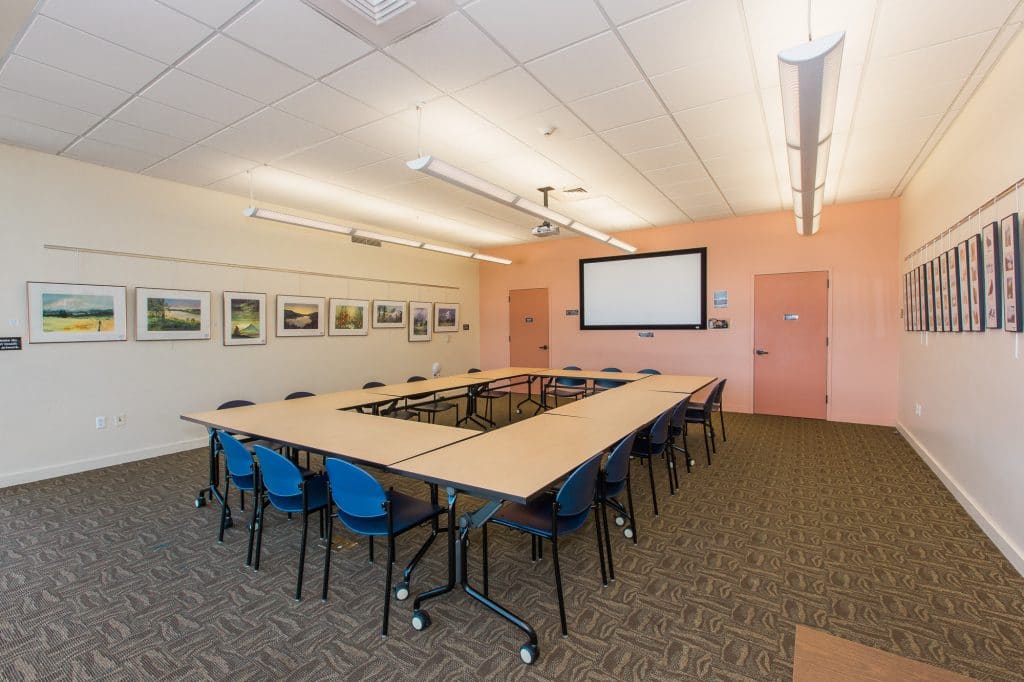 The Jeanne Marie Gaulke Community Meeting Room at the Hood River Library is available for the public to use for meetings and special events. Such use could include nonprofit board meetings, public hearings, concerts and performances, lectures, and much more.
Up to 49 people can occupy the room. The room is free for non-commercial use and $20 per hour for commercial use or private use. Commercial use includes selling products or services, fundraising, or events where a fee is charged. Private use includes events for private parties such as closed parties, depositions, meetings with clients, etc. Businesses and commercial organizations may use the Meeting Room without charge for educational and informational purposes or for staff meetings and trainings.
The room can be booked up to 6 months in advance. While every effort is made to accommodate use of the room, we cannot guarantee availability for regular weekly or monthly events or events that involve all day use across multiple days.
The following furniture and equipment are available:
Tables
Chairs
Easels
Lectern
Whiteboard
Television with DVD and VHS players
Projection screen
LCD projector
Phone for teleconferencing (upon request)
Booking the room
If you're interested in booking the room, please first read the Meeting and study rooms policy. Then, check the calendar below to see if the dates in which you're interested are available. Once you determine your dates, fill out the form below to book the room. We like to leave at least a 30 minute gap between appointments, so keep that in mind when requesting times.
Need to use the room at a time with the library isn't open? No problem! We're happy to check out a key to you, so the room is available anytime.
Schedule
The calendar below shows when the room is being used. Please check the room's availability, then fill out the application below. We will contact you to confirm your reservation.Meeting room reservations can only be made for meetings occurring within the next 6 months. Please call us with questions at 541-386-2535 or email us at info@hoodriverlibrary.org.
MOBILE DEVICE USERS:
If the individual days can't be read, try ROTATING your phone or tablet to view horizontally (landscape). If you are having difficulties, you can view it on a laptop/desktop computer or  contact us.

Hood River County Library District
Hood River County Library District is committed to delivering excellent library services to all of the people of Hood River County, Oregon.