Who Are the Friends?
We are book lovers and library supporters.
We formed the Friends of the Hood River Library in 1977. Donations, membership fees, and the sale of books fund our efforts.  Through the years, the Friends have made large and small contributions to the library, from lamps and footstools to computers and children's programs. We also donated $15,000 toward the Library's remodel project  $5,000 to the new library district board for start-up costs, $1,300 for the young adult collection, and $2,500 for audio books.
In 1998 the Friends gave $10,000 in seed money to start the Library Foundation, which raised funds for the library renovation and expansion in 2003 and ran an Early Open Campaign in 2011 that allowed the library to reopen six months early.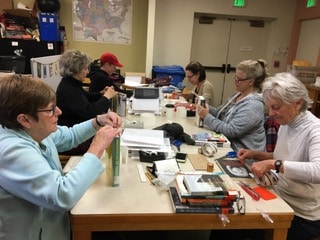 Friends members also volunteer in the library. We cover and process new books, shelve, and assist the children's librarian with craft projects. We organize adult programs and co-sponsor the Hood River Reads annual event.
When the library was closed, the Friends remained active with many members working on the grassroots campaigns to re-open it. Hood River County voters passed the November 2010 ballot to establish a tax base for the library. The Friends ongoing projects include the Winter Programs, Hood River Reads, raising funds to support the Children's Summer Programs, and providing additional Library funding as needed.
We invite you to join or support The Friends of the Hood River County Library. There will be many opportunities to  help our library in the coming years. The Friends meet at noon on the second Tuesday of most months at the Hood River Library.
For more information contact Co-Presidents:
Friends@hoodriverlibrary.org
Pat Schmuck at 541-399-3063
Nadine Klebba at 971-803-0959
2018-19 Donations
In 2018-19, the Friends of the Hood River County Library and
their donors gave over $14,588 to support these great projects:
$8,000 to support the Summer Reading Program
$1,950 for new audiobooks
$3,000 to the Odell Library Express bus program.
$1,638 for Wi-fi hotspots and tablets for Makerspace programs.
The Friends of the Library and other individuals also gave over 1,643 volunteer hours to the library doing everything from processing new materials to shelving to helping staff manage the collections. They go through literally thousands of book and other donations to put into the library collections, sell to raise funds, or distribute to helps items find new homes.