Criminal Justice Collection
Provides articles useful for students and those working in criminal justice, law, or homeland security.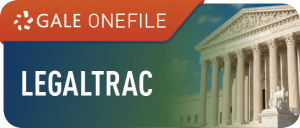 LegalTrac
Provides citations from major law reviews, legal newspapers, bar association journals, and international legal journals. Abstracts or full-text articles are available for some titles. Legal forms are not included.
Oregon Administrative Rules
All of the rules and filings for Oregon are in one easy to search location. Administrative Rules are created by most agencies and some boards and commissions to implement and interpret their statutory authority.
Oregon Judiciary Branch – Forms Center
Online court forms for the following categories: Family Law, Civil/Criminal/Probate, Protective Orders, Forms for Attorneys & Government Entities, and Specialized Forms.