Friends of the Library
membership & volunteer opportunities
The Hood River Reads 2023 selection is
ROUGH HOUSE
By TINA ONTIVEROS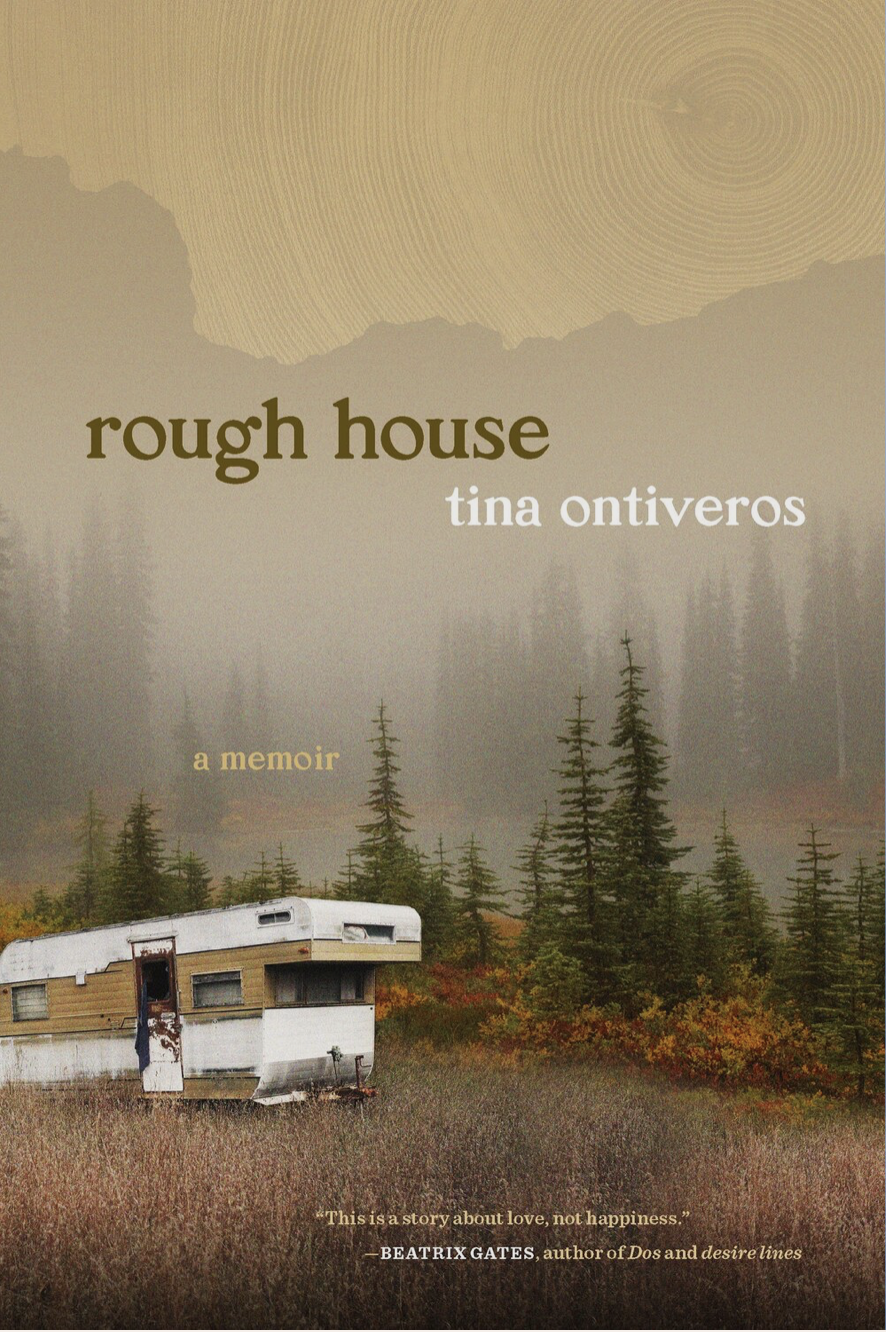 ROUGH HOUSE BY TINA ONTIVEROS
In her gripping and courageous debut memoir rough house, author Tina Ontiveros tells  the story of her experiences as a young girl  growing up in Pacific Northwest logging camps and working-class towns amidst her family's intergenerational trauma and poverty.
The author describes her journey of love, loss, pain, acceptance, and finding herself after growing up divided between a charming,  mercurial, abusive father and a mother struggling with small-town poverty. In  searingly honest, straightforward prose, rough  house tells how the author tried to understand her father and family from an adult perspective. She explores universal themes of parents and children, how poverty can shape family relationships, and her journey to a different kind of adulthood. rough house confirms our shared humanity and reminds us that sometimes pain can make us strong.
We also recommend the article The LIfe We Pay For by Tina Ontiveros, Oregon Humanities magazine Spring 2019.
ABOUT THE AUTHOR
Tina Ontiveros is a writer and teacher based in the Pacific Northwest. She was born in Idaho and raised below the federal poverty line, living mostly with her single mother at the edge of the Oregon desert, but often with her migrating dad in small timber towns across the Northwest. As the first person in her family to go to college, she completed her college education while raising her children. After community college, she earned her BA in Literature at Marylhurst University, then her MFA in Nonfiction Writing from Goddard College. As a writer and a teacher, Tina explores class, generational hardship, and the social constructs that  marginalize the poor. Her essay, The Life We Pay For, was a top ten most read 2019 Oregon Humanities Magazine feature. Her memoir, rough house, was a  national Indie Next Great Read, an Oregon Book Award finalist, and winner of the 2021 Pacific Northwest Book Award. Tina lives in Hood River County and  teaches at Columbia Gorge Community College.
Hood River County Reads is an annual, county-wide project sponsored by the Friends of the Library. Our goal is to encourage readers of all ages to read and discuss books. We choose books and authors that reflect the diversity of our community and that will be shared widely with our county's individuals and families.
Hood River Reads also sponsors several events for adults and students, including talks and workshops by the visiting authors.
HOOD RIVER READS KICK-OFF & BOOK DISTRIBUTION
SATURDAY, MARCH 4
Hood River Library @ 2 pm for program and refreshments
Parkdale and Cascade Locks Libraries @ 10 am – 2 pm for book distribution
Collage Project: What Does Home Mean To Me? (for Youth)
SATURDAY, MARCH 25 @ 10:30am-12:30pm
Led by Artist Courtney Richards.
Sign-up HERE.

Storytelling Workshop: Bringing Your Stories To Life with Will Hornyak (for Adults)
SATURDAY, APRIL 1 @ 10am-12pm in the Meeting Room
Fool's Gold! Stories of Unlikely Gifts with Will Hornyak (All Ages)
SATURDAY, APRIL 1 @ 1 pm in the Reading Room
Challenged Lives: Help and Hope in Our Community
TUESDAY, APRIL 4 @ 12pm AT THE FISH Food Bank Community Room
Panelists and resource information from various local social service agencies.
Hood River Library Book Club: 

r

ough house
WEDNESDAY, APRIL 12 @ 12:30 pm in the Meeting Room & on Zoom
Writing Workshop with Tina Ontiveros
SATURDAY, APRIL 15 @ 10:00 am -12:00 pm in the Meeting Room
Public Presentation by author Tina Ontiveros
SUNDAY, APRIL 16 @ 2 pm
We Couldn't Do It Without You!
Thank You to Our Supporters:
Many Volunteers!
Waucoma Books
FISH Food Bank
Local Social Service Agencies
Hood River County Teachers
Weatherly Printing
Middle and High School Artists
Starbucks
Special Thanks To:
Hood River County Library Foundation
Starseed Foundation
Hood River County Education Foundation
Hood River Cultural Trust
Hood River Valley LEOS
Friends of the Hood River County Library
Providence Community Benefit Fund
Gorge Community Foundation's Pat Hazlehurst       Endowment Fund
Leighton Hazlehurst
for their continuing support of the Hood River County Reads literacy project for
Hood River County
Looking Back:  Past Hood River Reads Books
Our program began in 2006 and we have been very fortunate that the authors (or, in one case, the author's son) have been able to come to Hood River to interact with members of the community and to work with students at the schools.
We encourage you to read and discuss all of the Hood River Reads books!
2006: Bat 6 by Virginia Euwer Wolff
2007: Gonzales and Daughter Trucking Company by Maria Amparo Escandon and Esperanza Rising by Pam Munoz Ryan
2008: River Song by Craig Lesley
2009: Stubborn Twig by Lauren Kessler
2010: The Hearts of Horses by Molly Gloss
2012: The Circuit/Cajas de carton by Francisco Jimenez
2013: Ricochet River by Robin Cody and Something to Hold by Katherine Schlick Noe

2014: Ask Me: 100 Essential Poems by William Stafford
2015: Into the Beautiful North by Luis Alberto Urrea and Becoming Naomi Leon by Pam Munoz Ryan
2016: Martin Marten by Brian Doyle
2017: Ordinary Grace by William Kent Krueger and Mockingbird by Kathryn Erskine
2018: Moreno. Prieto. Brown by Alejandro Jimenez and Brown Girl Dreaming by Jacqueline Woodson
2019: Temperance Creek by Pamela Royes
2020/2021: The Highest Tide by Jim Lynch
2022: A Fire Story by Brian Fies

Hood River County Library District
Hood River County Library District is committed to delivering excellent library services to all of the people of Hood River County, Oregon.