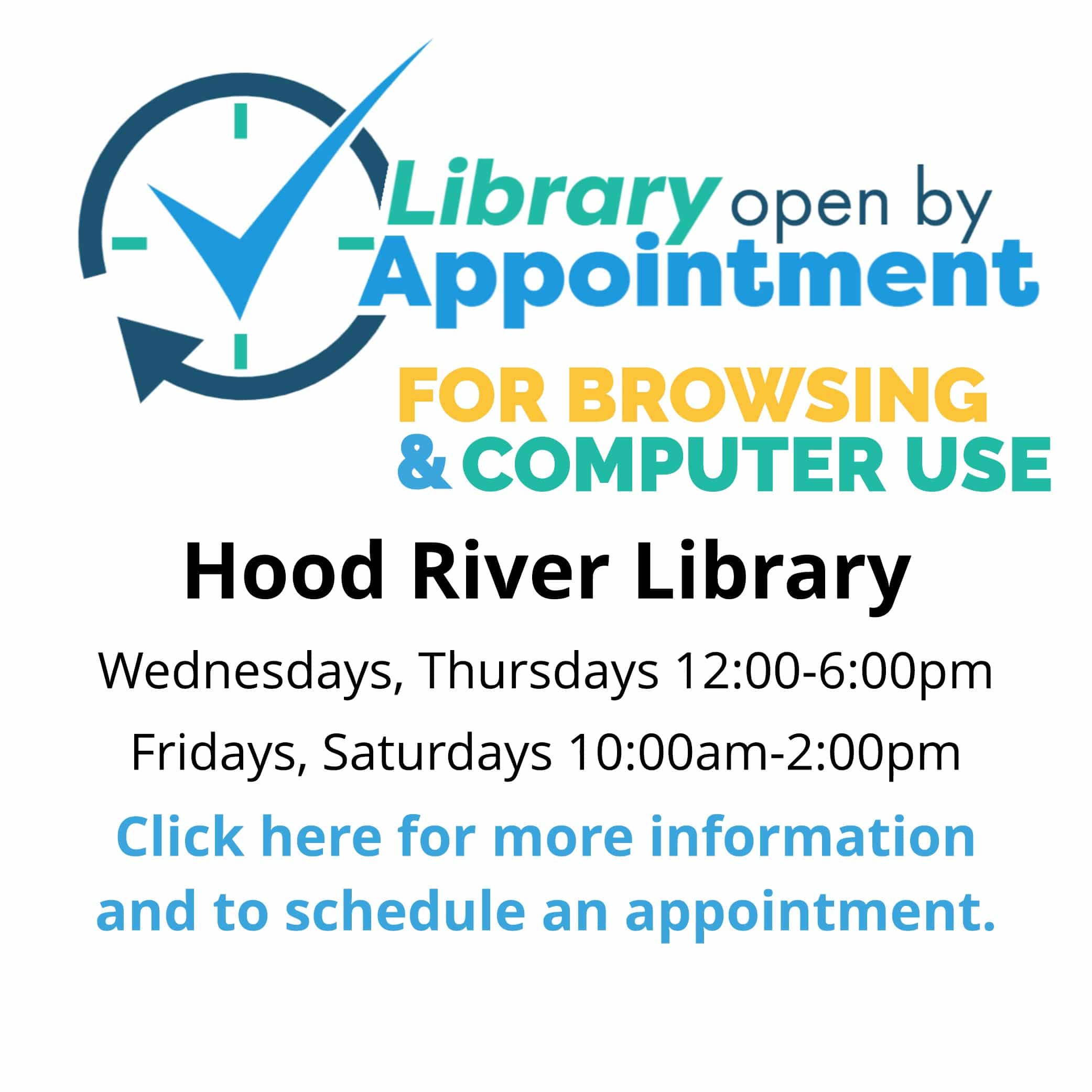 The Hood River County Library District is offering Browsing and Computer Appointments at the Hood River Branch on Wednesdays and Saturdays. Starting Wednesday, March 31 the appointment days will be expanded to include Wednesdays and Thursdays 12:00-6:00pm and Fridays and Saturdays 10:00am-2:00pm.
Library staff know many patrons have been eager to browse and choose their own titles again, and staff are excited to see them. Patrons are invited into the building for 30 minutes. They can pick up holds, browse for books, or use a public computer. For browsing appointments patrons can bring up to five people or one family unit. For computer appointments, patrons can bring up to two people. Patrons will enter through the west side of the building through the door near the book drop. The main entrance of the library will be for Curbside Pickup only. Appointments can be scheduled by visiting the library website www.hoodriverlibrary.org, calling 541-386-2535, or dropping by during Curbside or Appointment hours.
To help keep the library open and everyone safe, the Library District leadership team has established a few basic rules based on guidance from the Oregon Health Authority and the Oregon Library Association. We will update these as conditions change.
Masks Required: All visitors to the library ages 5 and up are required to wear a face covering. If you cannot wear a mask, please call the library to make special arrangements for book pickup outside the library.  
Public Computers: The library is offering public computer and photocopier use. Computer stations are spaced per state health guidance and will be sanitized between users.
Bathrooms: Bathrooms are closed due to strict cleaning protocols.
No Furniture: All seating has been put away to help keep patrons to 30 minutes and reduce sanitation requirements.  
No Meeting rooms: There will be no meeting rooms available at this time.  
Book Drops: The book drops will remain open for drop off anytime. All items are kept in quarantine for 2 days. We are a fine free library and no overdue fines will be issued.
Curbside Services will continue to be offered at the Hood River Library Tuesday-Thursday 12:00pm-6:00pm and Friday-Saturday 10:00am-4:00pm, and at the Cascade Locks and Parkdale branches Tuesday 2:00pm-6:00pm and Saturday 10:00am-2:00pm. In order to pick up materials through this service, library patrons will be asked to place holds on their library cards through the library's online catalog or by calling the branches directly: Hood River (541) 386-2535, Cascade Locks  (541) 374-9317 and Parkdale (541) 352-6502.
Library patrons are asked to only return items in the outside book drops. All items returned to the library during this time will be placed in a 48-hour quarantine before being placed back on the shelves.
The Hood River County Library District Leadership Team has developed a reopening plan using recommendations from Governor Kate Brown, local health department officials, and the Oregon State Library. The plan involves re-opening the library in stages. The Library District moved to Stage 4 on March 10. The plan can be viewed at www.hoodriverlibrary.org. The Leadership Team will continue to approach each stage of reopening with careful thought and consideration to ensure the safety of the staff, volunteers and patrons. The Library District is working to add appointments at the Cascade Locks Branch Library. Due to the small size and limited ventilation system at the Parkdale Branch Library, only Curbside Services will be available at this time.
Library staff encourage patrons to continue to use their online resources and services. Residents in the service area can sign up for a library card through the website at www.hoodriverlibrary.org to access: ebooks and audiobooks, stream movies and kid's educational programming, and to access online databases and more through the digital library. 
The library is offering a variety of online programming and services. To learn about programs, services, and updates, patrons can follow the Library on social media (Facebook and Instagram), check the library website, and sign up for the e-newsletter.