Did you know that the Hood River County Library Foundation, one of the two library support groups, gave over $63,000 to the library district this year? Thanks to the Foundation's contributions, the library district has been able to offer a variety of electronic resources, magazines and newspapers, new furniture and tools for our Makerspace, and soon the library will add more items to their newest collection, a Library of Things. The collection supports lifelong learning and creativity by providing the physical tools necessary to explore new areas of interest and learn new skills.
Since voters passed the library district in 2010, the Library Foundation dedicated itself to supplementing the district's regular tax funding with additional contributions to improve programs and services. Last year, the Foundation raised $63,000 to donate to the library district's budget in 2018-19. The Library Foundation's 2019 Feast of Words fundraiser in March brought over 200 people into the library, and netted nearly $30,000 to improve services in the community of Odell. Already this year, the donation has funded:
Improving library services in the community of Odell with a weekly Pop-Up Library;
The downloadable e-book and audiobook service Library2Go;
Movie licensing to show a variety of movies to teens and kids;
Magazines and newspapers on topics for nearly any interest in both English and Spanish, for kids, teens, and adults;
Repair and painting the walls of the public meeting room.
This month, that $63,000 will go even farther, helping the library district launch a new electronic resource that people will be able to access from home: Kanopy on-demand movie streaming service. Kanopy showcases more than 30,000 of the world's best films, including award-winning documentaries, rare and hard-to-find titles, film festival favorites, indie and classic films, and world cinema.
The Foundation raises funds from a variety of sources including direct mailings, the annual gala Feast of Words (mark your calendars for March 14th of 2020!), and its membership program. People interested in further supporting the library district can do so by becoming Foundation members, which helps the libraries offer even more services. More information can be found about the Foundation's membership program at http://hoodriverlibrary.org/foundation/membership/.
For more information about the Hood River County Library Foundation and all that it does, visit their website at http://hoodriverlibrary.org/foundation/ or email foundation@hoodriverlibrary.org.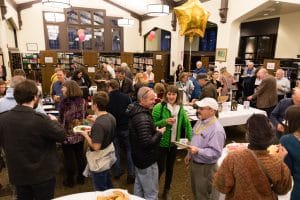 .