Moreno. Prieto. Brown., Alejandro Jimenez's first book, is a collection of 16 poems and one short story. Much of the book is autobiographical, about growing up undocumented in the U.S. It is about family, breaking stereotypes, redefining masculinity, and about a yearning for home. He retells stories of memories, loss and joy. Like most things worthwhile, it is a journey. As an immigrant in the U.S. Alejandro learned how easily people can be ignored, unheard and unnoticed. Though not always the easiest of things to do, he learned that he needed to be honest and to use his voice and words to transform, heal, and take us places never thought imaginable. He believes that we hold so much collective power that we can be agents of change in our communities and that we are full of beauty waiting to blossom.
Alejandro Jimenez is a writer, storyteller, poet, educator and avid distance runner from Colima, Mexico. Arriving in 1995 in the United States at eight years old as an undocumented immigrant, he grew up in the Hood River Valley where he attended elementary, middle and high school. When time allowed during his summer breaks, he worked with his family in the orchards, picking fruit, thinning, catching gophers, changing irrigation pipes and learning to fall in love with running. Upon becoming the first member in his family to graduate from college, Willamette University class of 2009, he moved to Denver to organize for immigrant rights.
He has shared his poetry in sold-out opera houses, universities, detention centers, cultural events, museums, festivals, and elementary, middle and high schools. His poems have appeared in multiple anthologies and literary magazines. Alejandro had the honor and privilege to write and read a poem for the 2012 Presidential Medal of Freedom Recipient, Dolores Huerta. He is a two-time National Poetry Slam Semi-finalist, Southern Fried Poetry Slam Finalist and TEDxMileHigh Speaker. He lives in Denver and works with youth, trying to instill the power of words and art.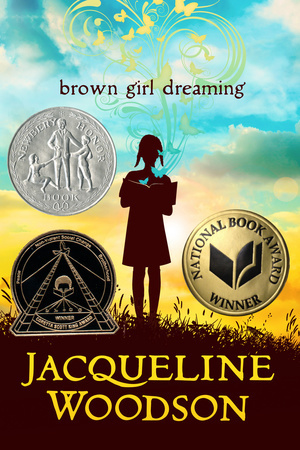 For younger readers, we have selected Newberry Honor winner Brown Girl Dreaming by Jacqueline Woodson. This book is a memoir of her childhood as an African American in the South and Northeast in the 1960s. She is best known for Miracle's Boys and After Tupac and D Foster. She was recently named the National Ambassador for Young People's Literature by the Library of Congress, 2018-2019. Copies of  Brown Girl Dreaming will also be given away during the Reads program.
PROGRAM AND EVENTS    All events are free and fun!
March 17 – Saturday 2-3:30 pm @ Hood River Library – KICK-OFF! Book distribution, art, poetry, workshop registration and refreshments
March 20 – Tuesday 5-7 pm @ Parkdale and Cascade Locks Libraries – KICK-OFF! Book distribution
March 21 – Wednesday 6:30 pm @ Mt. Hood Town Hall – Hood River Library Book Club discussion of Moreno. Prieto. Brown.
April 5 – Thursday 6:30-8 pm @ Hood River Library in the Meeting Room – Hood River Library Book Club discussion of Moreno. Prieto. Brown.                                                                           
April 14 – Saturday 2 pm @ Hood River Library in the Reading Room – Panel Discussion:Bridging Cultures – Our Neighbors' Stories           Please join neighbors Ethel Marquez, Viktoria Haas, Luis Dominguez, Neiko Bronson and Ubaldo Hernandez as they tell their fascinating stories of "bridging cultures"' where they have faced challenges and discovered delights.  You don't have to be an immigrant to "bridge cultures". Some panelists are immigrants and some have lived here most or all of their lives.
April 28 – Registration Required Saturday 10:30 am @ Hood River Library in the Meeting Room – Poetry workshop with Alejandro Jimenez.      Space is limited and signups will be taken at the kickoff and, after that, at the library (phone, website or at checkout desk). 
In this workshop participants will explore how to be "purposeful" with their writing. The workshop will ask writers, any level, to come and be ready to be honest – purposeful – and intentional with their writing and their truth, experience as a way of transforming and healing – whatever that looks like to the individual.
April 28 – Saturday 2 pm @ Hood River Library in the Reading Room – Public presentation by Alejandro Jimenez
29 de abril – Domingo, 1:30 pm En la esucela de Mid Valley – Presentación pública en Español con el autor Alejandro Jimenez Comida, música, y poesía de estudiantes.
May 3 – Thursday 6:30-8:30 pm @ Hood River Library in the Meeting Room – Hood River Library Book Club discussion of Brown Girl Dreaming