We know you have lots of questions regarding our closure and how that will affect the services we can provide. Along with you, we're trying to quickly adjust to our new reality in a way that keeps our patrons and staff safe.
We've provided answers to common queries below. Let us know if we are missing something.
Can't find the answer below?  
Email: info@hoodriverlibrary.org
Library Hours:
   Hood River
Tuesday, Wednesday, Thursday, 12 pm – 6 pm
                Friday, Saturday, 10 am – 4 pm
(541) 386-2535
    Cascade Locks
Tuesday, 12 pm – 6 pm
                Saturday, 10 am – 2 pm
(541) 374-9317
     Parkdale
Tuesday, 12 pm – 6 pm
                Saturday, 10 am – 2 pm
(541) 352-6502
 If we're with another patron, please leave a message and we will get back to you as soon as possible!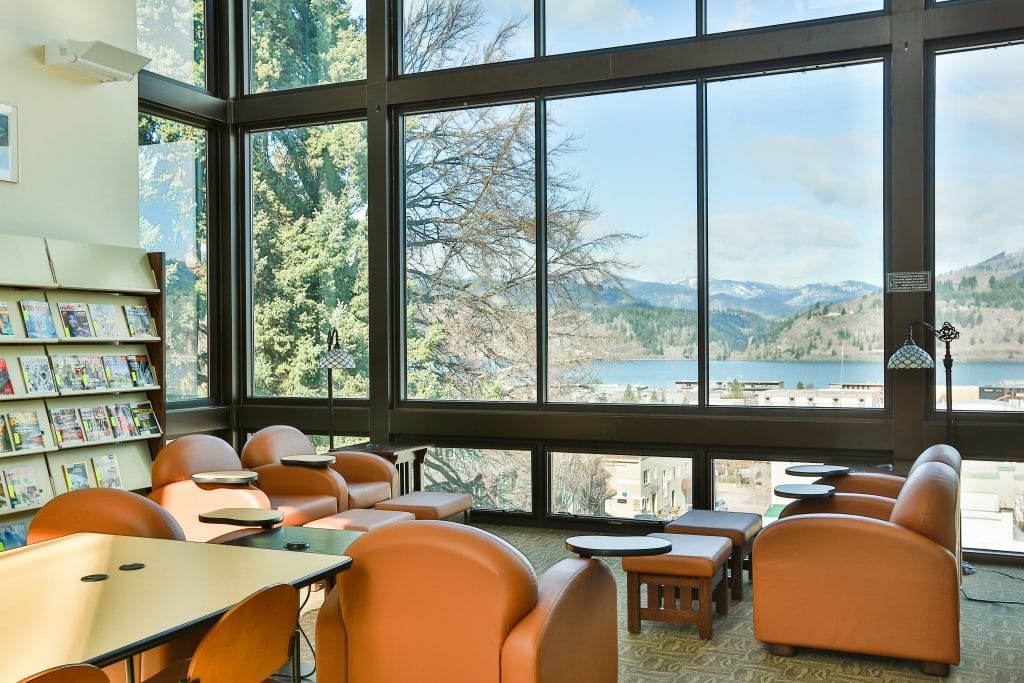 FREQUENTLY ASKED QUESTIONS
How do I use Curbside Services?
We are offering Curbside Services and library material returns at all our branches. Cardholders may reserve and pick up books, movies and more, email printouts, all while practicing physical distancing. More details.

What precautions are you taking to protect library users and staff and minimize risk of infection?
The safety of library staff and patrons is our highest priority. Library staff will follow all state and local public health guidelines, including physical distancing, wearing masks, frequent handwashing, sanitizing and disinfecting of workspaces and machinery, and self-monitoring for symptoms. 
Library patrons are asked to only return items in the outside book drops. Based upon advice from the Oregon Health all items returned to the library during this time will be placed in a minimum 2 day quarantine before being placed back on shelves.
For more on the library's COVID-19 response and safety precautions, please click here.
Are you accepting donations during the closure?
We are accepting donations in the bin in the lobby during Curbside hours. We're currently accepting books, Legos and Craft Supplies (No glass, sharp or heavy objects.)

What is the library offering online while you are closed?
Glad you asked! You can check out eBooks and audiobooks, stream movies, and more using the library's many digital resources. We are also putting together online library programs and finding fun activities for our kid, teen, adult, and Español communities. Find more information about our Digital Library here. 
Want to take a crafts class, get help studying for your GED, prepare for college admission exams, achieve your career goals, or learn computer skills or a new language? Check out Online Learning & Classes. Also, if you are stuck at home, why not explore your family history, do some auto repair, or research an area of interest? For these and other projects, we have  Research Tools to help you get started!
And be sure to check out our How to find help during the coronavirus page. We are updating it regularly with important information and community resources to help you get through these challenging times.
I have items due. Will they be late?
Not to worry! You will not accrue overdue fines until the library reopens in full. You will be charged a replacement fee for items 4 weeks overdue from their due date. This fee will be waived if the library materials are returned to the library.
Can I drop off my materials in the book drops?
 You may drop off library materials in the outside book drops. All items returned to the library during this time will be placed in a minimum four day quarantine before being placed back on the shelves. Library materials will remain on your account during this time but no overdue fines will be charged. In order to manage the quarantine process effectively and the high amount of returns anticipated, please do not drop off donations at this time. The library will be able to accept donations in the future.
Thank you so much for your patience and understanding!
What if some of my holds are ready for pick up?
You may pickup your holds through Curbside Services starting May 28 at the Hood River Library and May 30 in Cascade Locks Library and Parkdale Library.

Can I reserve a meeting room?
Unfortunately while we are closed, meeting rooms are currently unavailable for reservations.
We hope to restart the meeting room reservation system at a later day, but it depends on when we can safely re-open the library buildings to the public. Please check back here for the latest updates.
Can I still apply for a library card?
Yes! If you live in Hood River County and need a library card, you can apply for one online here.
You can also apply if you live in Clackamas, Multnomah or Washington Counties (OR) or if you live in Clark, Skamania or Klickitat Counties (WA) through our MIX  (Metropolitan Interlibrary Exchange) Program.
We will process online applications within 2 business days. Watch your email for your card number so you can start using our online services! 
How can I get the latest library news and information?
Our website will have the most up-to-date information. We are posting our latest news on our home page, so be sure to check back regularly. If you would like more information on the library's COVID-19 response, please click here. 
We also announce many changes on our Facebook and Instagram pages as well. Our social media pages are open for all to view, no account or sign-in required.
We will continue to send out our Library Newsletter periodically with updates and information, so be sure to sign up if you haven't. 
I've lost my card. How can I use your online services?
No problem. Email or call us with your full name, address and phone number so we can look you up and find your card number. We will get back to you as soon as we can!
Help! I've forgotten my username and/or PIN!
By default, your username is your library account number on the back of your card, though you might have opted to change it at some point.
For your PIN, try the last 4 digits of your telephone number (the one you have on your library account).
If you are still having problems, email us or call us and we can help you reset them!
Will WiFi still be available outside library buildings?
Yes, day or night, every day! Just be sure to practice good physical distancing (6 feet apart) if others are around.
Are you still offering library programs?
Absolutely! We are currently developing a variety of online programs for kids, teens and adults, and also scouring the web for additional fun activities.
You can find out more on our Online Library Programs page. Also see our online events calendar for a complete list of programs. 
When will you open again?
That is the million dollar question!
Currently, the library will remain closed until further notice.
The Hood River County Library District Leadership Team has developed the Hood River County Library District Roadmap to Reopening plan using recommendations from Governor Kate Brown, local health department officials, and the Oregon State Library. The plan involves re-opening the library in stages. We are currently in Stage 1. We will move to Stage 2 and 3 on May 28 in Hood River and May 30 in Cascade Locks and Parkdale branches.
The Hood River County Library District Leadership Team will approach each stage of reopening with careful thought and consideration to ensure the safety of the staff, volunteers and patrons. The library will reverse the order of the stages during the pandemic in the event of a local outbreak of COVID-19.
We will continue to follow guidelines from the Center for Disease Control, Oregon Health Authority, and Hood River County public health officials.
We really appreciate your understanding during these challenging times and all the support you've expressed. We can't wait to throw open our doors and see all of you again!